Maintain your mobility and quality of life with this Rollator with Folding Removable Back Support and Padded Seat by Drive Medical. This reliable rollator comes standard with 6 inch caster wheels for a smooth sense of motion over most types of terrai
View more
close
Available Options
Color
Red
Blue
Black
Aluminum Rollator, 6" Casters
Model 726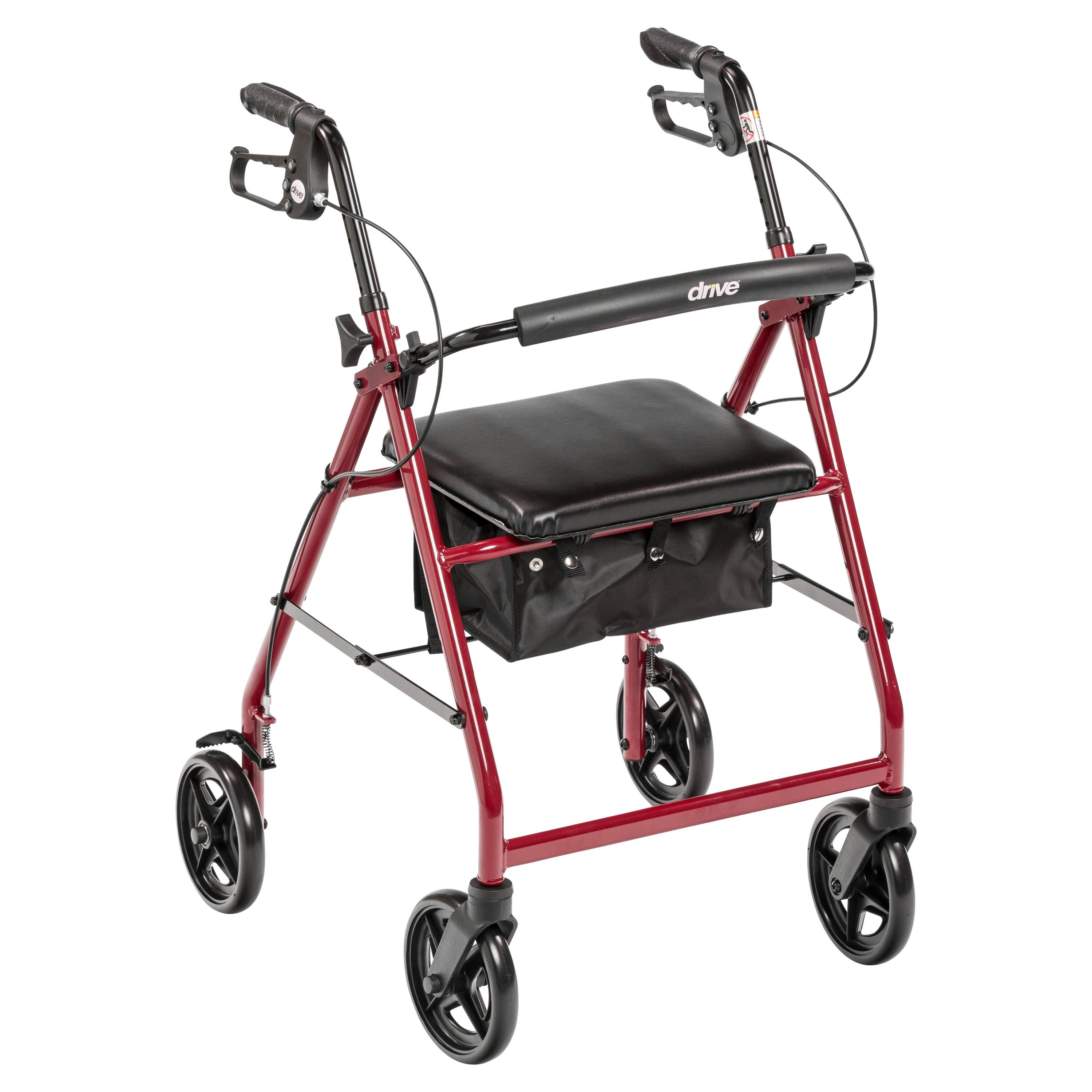 Maintain your mobility and quality of life with this Rollator with Folding Removable Back Support and Padded Seat by Drive Medical. This reliable rollator comes standard with 6 inch caster wheels for a smooth sense of motion over most types of terrain. It also includes loop locks and brakes that are easy to use, assuring you have a safe experience as you walk.
SEAT
When it comes to comfort, this rollator has it all, including a seamless padded seat and removable back support. Use the seat whenever you need to take a break, have a rest, or just want to sit down and chat. Inside the seat, you'll find a roomy zippered storage pouch so that you can easily and securely transport personal items and important essentials.
HEIGHT ADJUSTABLE HANDLES
Enjoy a custom fit with the height-adjustable feature that can be changed to accommodate your personal specifications. The ergonomic handles are padded and easy to grip, and they're also height adjustable. The hinged backrest can be removed or folded up or down for additional versatility.
SLIM DESIGN
Experience independence with this durable rollator made with a sturdy aluminum frame. Serrated edges on the brakes ensure you come to a full and complete stop whenever you need to.This rollator by Drive Medical with 6" casters includes features for safety, convenience and durability, making it a great rollator for anyone.
STORAGE
The zippered pouch under seat is great for added privacy and security of personal items. You can remove or fold up/down the padded backrest as well. With tires ideal for both indoor and outdoor use, this rollator is great for both the homebody and the explorer.
3 COLORS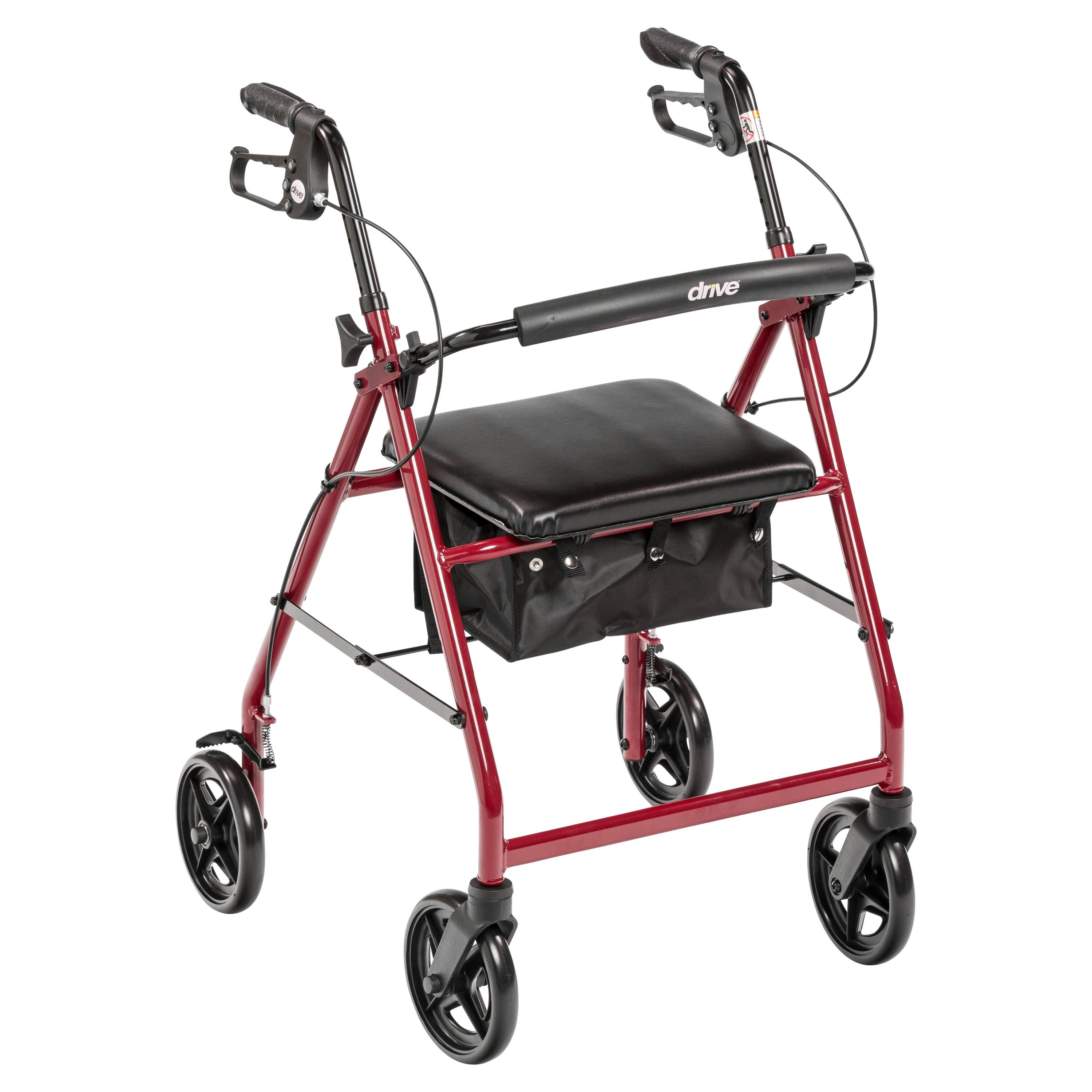 SPECIFICATION
| | |
| --- | --- |
| Casters | 6" |
| Dimensions | 24.5" W x 27.5" D |
| Handle Height | 32" - 37" |
| Inside Hand Grip Width | 17" |
| Material | Aluminum |
| Number of Wheels | 4 |
| Seat Depth | 12" |
| Seat To Floor Height | 20" |
| Seat Width | 14" |
| Warranty | Limited Lifetime |
| Weight | 13 lbs |
| Weight Capacity | 300 lbs |
| | |
| --- | --- |
| Handle Height | 32" |
| Unit Dimensions | 24.5" (W) x 27.5 (L) |
| Seat Dimensions | 14" (W) x 20" (H) x 12" (D) |
| Weight | 13 lbs. |
| Carton Shipping Weight | 16 lbs. |
| Weight Limit | 300lbs. |
| Warranty | Limited Lifetime |
| | |
| --- | --- |
| Handle Height | 32" |
| Unit Dimensions | 24.5" (W) x 27.5 (L) |
| Seat Dimensions | 14" (W) x 20" (H) x 12" (D) |
| Weight | 13 lbs. |
| Carton Shipping Weight | 16 lbs. |
| Weight Limit | 300lbs. |
| Warranty | Limited Lifetime |